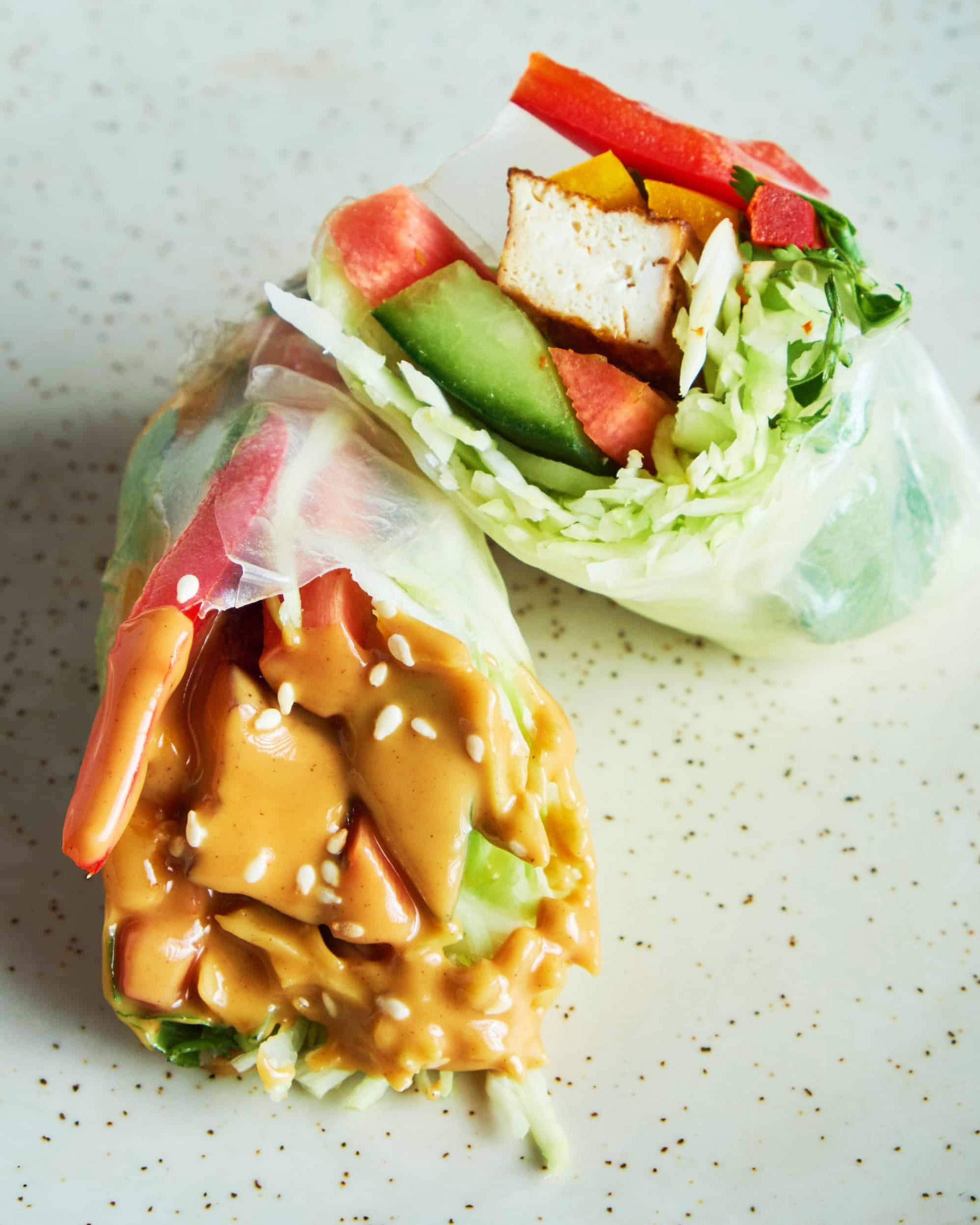 Vegan Summer Rolls
Hi friends, I made some vegan summer rolls earlier today (with peanut dipping sauce). These are juicy and crunchy and taste as good as they look.
The spiciness of the peanut sauce pairs perfectly with the rolls.
I also love how rice paper wrappers open up a world of possibilities for rolls like this. Super easy to prepare and so customizable.
Okay, enough talks. Let's get cooking! 😅
Print
Vegan Summer Rolls
Easy vegan summer rolls recipe by Veganbell
Pin Recipe
Recipe Video
Ingredients
To prepare peanut sauce,
1/4

cup

peanut butter

1/4

teaspoon

garlic

(minced)

1/4

teaspoon

ginger

(minced)

1/2

tablespoon

soy sauce

1/2

tablespoon

lemon juice

1/2

tablespoon

sugar

(powdered)

Salt and pepper

1/2

teaspoon

chili oil

2

tablespoons

warm water
To prepare roll,
Cabbage

(shredded)

Cucumber

(thinly sliced)

Carrot

(thinly sliced)

Bell peppers

(sliced)

Cilantro

Sesame

(toasted, to garnish)
Instructions
Step 1 : Sauté the tofu
In a large bowl, add soy sauce + oregano + chili flakes + salt + pepper + 1/2 tablespoon olive oil. Mix well using a spoon.

Next, add the tofu slices and toss to coat.

Set a pan over low-medium heat. Add 1/2 tablespoon olive oil. Once it's hot, add the tofu slices and saute for 3 minutes on each side. (I use a fork to turn the tofu). Once they're properly sauteed, remove from the heat and set aside.
Step 2 : Prepare the peanut sauce
In a medium mixing bowl, add peanut butter + garlic + ginger + soy sauce + lemon juice + sugar + salt + pepper + chili oil + warm water. Stir and mix until smooth. Sprinkle sesame seeds and set aside.
Step 3 : Prepare the rice paper
In a large bowl (that isn't shallow), add around 3 cups of warm water. Dip 1 piece of rice paper for 5-6 seconds and immediately remove it from the water. Make sure it doesn't stick to itself.

Transfer the paper to a chopping board. Place (horizontally) the following ingredients just below the center of the rice paper - cabbage, tofu, cucumber, carrot, bell pepper, and cilantro. You can also stack them on top of each other.

Carefully roll the paper - folding the sides as you roll your way up to the top. Slice them in two (or don't slice them if you find it messy). Repeat until you've used up all your tofu - you should be able to make 6-8 rolls.
Notes
I suggest brushing your chopping board using a bit of oil before you place the rice paper on it. This prevents the paper from sticking itself to the board. 
It seems some rice paper wrappers tear apart when you're rolling them (a couple of users complained about it). If you're facing the same issue, simply stack two rice papers on top of one another and continue from step 3b.
Nutrition
Serving:
1
roll
|
Sodium:
38.4
mg
|
Calcium:
158
mg
|
Vitamin C:
106.7
mg
|
Vitamin A:
6070
IU
|
Sugar:
10
g
|
Fiber:
2.7
g
|
Potassium:
96.8
mg
|
Calories:
70
kcal
|
Saturated Fat:
2
g
|
Fat:
5.4
g
|
Protein:
7.1
g
|
Carbohydrates:
10.2
g
|
Iron:
3.5
mg
Hope you enjoyed this recipe, thanks for stopping by! 😊