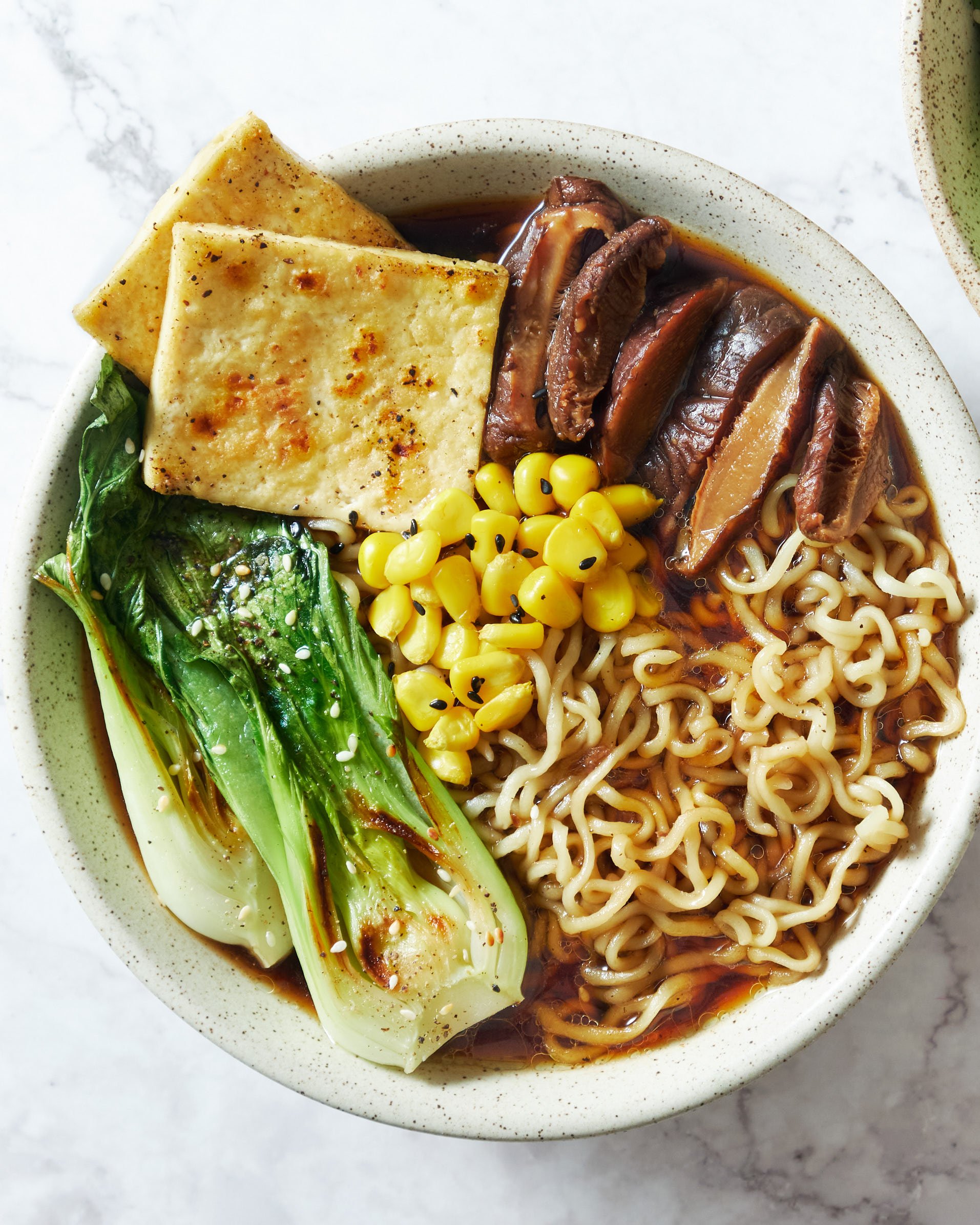 Vegan Shoyu Ramen
Hello friends! We're back with this incredibly filling and hearty bowl of ramen. 🙂
The umami soup together with the sweet corn + crunchy bok choy + fried tofu makes this a wholesome dish.
Shiitake mushroom is the silent star of this recipe and we love how juicy and flavorful it turned out.
The ingredients are super simple. Although we used Kombu (which might be the one 'uncommon' ingredient if you're new to Japanese cooking), it's easily obtainable in most Asian stores, or online.
The preparation is also incredibly easy. While our shoyu soup was coming together, we concurrently made pan-fried tofu and bok choy (and also had ample time to boil the ramen noodles AND the sweet corn).
We hope you enjoy it. Let's go!
Print
Vegan Shoyu Ramen
Simple and delicious vegan shoyu ramen recipe.
Pin Recipe
Recipe Video
Ingredients
To prepare pan-fried tofu & bok choy,
Bok choy

(sliced in half)

Salt & pepper
Instructions
Step A : Prepare Shoyu soup
Set a large pot over low-medium heat. Add sesame oil.

Once it's hot, add ginger + onion + garlic. Stir-saute for 2-3 minutes, or until the onion is translucent.

Add water + kombu + shiitake mushrooms + soy sauce + rice vinegar + white vinegar + salt + pepper + sugar.

Mix well and bring it to a simmer. Once it starts simmering, cover the pot and continue to simmer over low-medium heat for 30 minutes. In the meantime, let's prepare the other ingredients.
Step B : Prepare pan-fried tofu + bok choy + corn + noodles
Set a non-stick pan over medium heat.

Brush it with a bit of olive oil. Evenly sprinkle salt and pepper on the surface.

Place tofu slices on top and let it fry for 2-3 minutes, or until golden. Flip and fry the other side. Remove from the pan and set aside.

Again brush your pan with a bit of olive oil. Place the bok choy (sliced part facing down) and let it fry for 3-4 minutes, or until the leaves are wilted and start to brown. Flip and sprinkle salt and pepper on top. Let it fry for 40-50 seconds.

Turn off the heat and set aside.
Step C : Prepare noodles + corn
Boil ramen noodles according to package instructions. Once cooked, drain and set aside.

Boil sweet corn. Drain and set aside.
Step D : Slice the mushrooms
By now, the simmering soup should be ready. Using a strainer, remove the non-liquid ingredients. Do not turn off the heat of the pot. Reduce it to low and cover with a lid.

Separate the mushrooms and cut them into slices. Discard the rest.
Step E : Assemble
Transfer the cooked noodles to a bowl and assemble bok choy + tofu + mushrooms + sweet corn. Pour in the hot soup and garnish with toasted sesame seeds.

That's it! Enjoy your hot and flavorful bowl of vegan shoyu ramen. 🙂
Nutrition
Sodium:
3240
mg
|
Calcium:
1863
mg
|
Vitamin C:
761
mg
|
Vitamin A:
75144
IU
|
Sugar:
25
g
|
Fiber:
21
g
|
Potassium:
4557
mg
|
Calories:
772
kcal
|
Saturated Fat:
9
g
|
Fat:
29
g
|
Protein:
39
g
|
Carbohydrates:
105
g
|
Iron:
18
mg
If you liked this Vegan Shoyu Ramen recipe, check out this delicious Spicy Peanut Sauce Noodles we posted earlier.
If you enjoy reading and cooking from our blog, check out Ryoya's Peaceful Cuisine and his amazing Sticky Rice with Ginkgo Nuts recipe. 🙂