Minced TVP Pitacos
Hi friends! Welcome to Veganbell's experimental food series. Today, I'm featuring a recipe for minced TVP pitacos – a tasty twist on traditional tacos.
For those who may not be familiar, TVP (or Textured Vegetable Protein) is a soy product that is often used in vegan and vegetarian dishes as a meat substitute. It has a rich, umami flavor and is great at absorbing other flavors, making it a perfect addition to these pitacos.
To make these pitacos, we start by toasting some pita bread with a bit of olive oil. Then, we add a cooked & spiced mixture of minced TVP and top it with freshly squeezed key lime, freshly chopped cilantro, pickled onions, chopped tomatoes, and shredded cabbage. The combination of flavors is simply divine!
This is a fun and easy recipe to make, and it's sure to be a hit with both vegans and non-vegans alike. Give it a try and see for yourself just how delicious it is.
Let's go!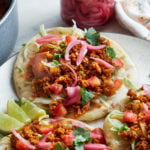 Print
Minced TVP Pitacos
Simple and delicious vegan minced TVP pitacos recipe
Pin Recipe
Instructions
Set a saute pan over medium heat. Add olive oil.

Once it's hot, add garlic + onion and stir-saute for 2-3 minutes, or until translucent.

Add tomato paste + cumin powder + smoked paprika. Stirring continuously, cook for 2 minutes.

Next, add the TVP and stir-cook for 1-2 minutes.

Add mushroom powder + water + salt + pepper + soy sauce + rice vinegar. Mix well and cook for 4-5 minutes or until the water is absorbed and the TVP is juicy.

Time to assemble. Toast your pita breads and add the TVP mixture + cabbage + tomato + onion pickle + cilantro. Drizzle lime juice.
Notes
If you can't find shiitake mushroom powder, simply grind dried shiitake until it's powdery.
Nutrition
Sodium:
608
mg
|
Calcium:
108
mg
|
Vitamin C:
13
mg
|
Vitamin A:
461
IU
|
Sugar:
4
g
|
Fiber:
5
g
|
Potassium:
265
mg
|
Calories:
241
kcal
|
Monounsaturated Fat:
2
g
|
Polyunsaturated Fat:
1
g
|
Saturated Fat:
1
g
|
Fat:
4
g
|
Protein:
12
g
|
Carbohydrates:
40
g
|
Iron:
3
mg
If you liked this Minced TVP Pitacos recipe, check out this delicious Vegan Lentil Burger recipe I posted earlier.
If you like to support me and my work, check out my Indian Vegan Cookbook (and all my upcoming cookbooks) on Qookbooks.com, where I teach you how to make 64 delicious Indian plant-based recipes ranging from rice, dals, curries, breads, desserts, and more!
Thanks for stopping by! 🙂
Keywords: minced TVP pitacos, vegan food, experimental food series, pita bread tacos, soy granules, textured vegetable protein, umami flavor, meat substitute, olive oil, key lime, cilantro, pickled onions, tomatoes, cabbage, vegan recipe, vegetarian recipe, fun to make, easy to make, vegan Mexican food