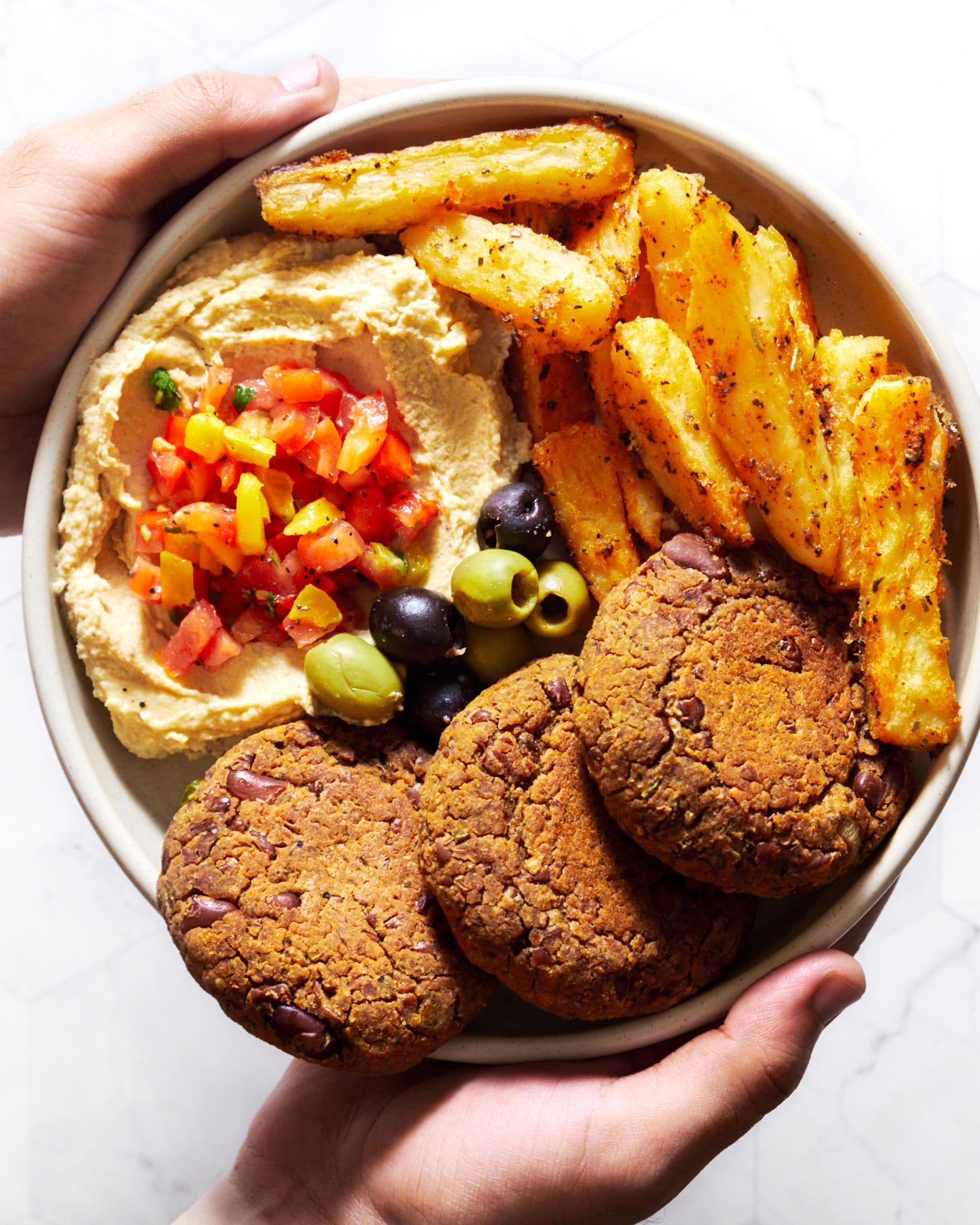 Kidney Bean Patties
Quick, easy, baked patties that you can enjoy as burger, or with sauce/dips.
I served mine with baked potatoes and creamy hummus.
Let's go!
Print
Kidney Bean Patties
Quick & easy Kidney Bean Patties recipe.
Pin Recipe
Instructions
Step A : Cook the kidney beans (skip to step 5 if you're using canned beans)
Soak kidney beans in water for 8 hours or overnight.

*After 8 hours* Drain and transfer the beans to a jiggletop / stovetop / electric pressure cooker. Add 3 cups of water + 1/2 teaspoon salt.

Secure the lid and seal the valve.

For jiggletop pressure cooker, cook over medium heat for 5-6 whistles. For stovetop pressure cooker, cook over medium heat for 20 minutes after it indicates high pressure.For electric pressure cooker, set the timer to 25 minutes on HIGH PRESSURE.

Once it's cooked, do a quick pressure release. Open the lid and drain.

Transfer to a large bowl and mash it up using a potato masher. Set aside.
Step B : Saute (and then blend)
Set a pan over medium heat. Add oil.

Once it's hot, add garlic + onion and stir-saute for 2-3 minutes, or until the onion's translucent.

Now, add peas and stir-cook for 3 minutes. Turn off the heat and transfer this mixture to a blender.

Add lemon juice + nutritional yeast + paprika + salt + pepper to the blender. Blend to a paste.
Step C : Shape them into patties
Transfer this paste to the large bowl (that contains mashed Kidney Beans). Add oat flour and mix well using your hands.

Scoop a portion of this mixture and shape it into a round patty. Depending on the size, you should be able to make 5-6 patties. Transfer the patties to a tray.
Step D : Freeze (optional) and then bake
Chill the patties for 3-4 hours (optional). Brush the top with a bit of olive oil. Then bake for 40 minutes at 230 C (450 F), flipping halfway.

Kidney bean patties is ready.
Nutrition
Calories:
296
kcal
|
Carbohydrates:
44
g
|
Protein:
14
g
|
Fat:
8
g
|
Saturated Fat:
1
g
|
Sodium:
10
mg
|
Potassium:
562
mg
|
Fiber:
9
g
|
Sugar:
4
g
|
Vitamin A:
236
IU
|
Vitamin C:
20
mg
|
Calcium:
51
mg
|
Iron:
4
mg
If you liked this recipe, check out this delicious Kidney Bean Burger we posted earlier.
If you enjoy reading and cooking from our blog, check out Sina's Vegan Heaven and her delectable Vegan Jambalaya & Beans. ?